Plantago major L.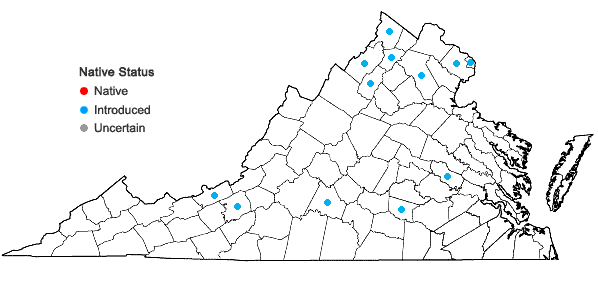 Detail
Family

Plantaginaceae

Botanical Name

Plantago major L.

Common Name

Common Plantain

Synonym(s)

Flora of Virginia Name/Status

Plantago major L.

Comments

Most of the records reported by Massey in "Virginia Flora" were not found by Miles Johnson in his study, "Phrymaceae and Plantaginaceae in Virginia" (Va. J. Sci. 32(1):12-16 (1981)), suggesting some of Massey's citations were referable to P. rugelii. Johnson reported only 5 counties (Fairfax, Fauquier, Frederick, Shenandoah, and Campbell). Atlas III produced many more records but their configuration is unique relative to what Massey and Johnson had reported. The actual status and distribution is in need of study. The map presented here is based on Johnson, with a few more recent records added.
Although superficially resembling P. rugelii, Plantago major may be recognized by a host of characters. Most commonly cited are entirely green petioles and capsules circumscissle at the middle. In contrast, P. rugelii leaves are purplish at the base of the petioles (as well as the peduncles), and capsules are circumscissle about 1/3 above the base. Additional traits of P. major are paler green leaves which are uniformly pubescent, especially below (thinly pubescent to glabrate for P. rugelii), sepals short and very blunt apically (vs. lanceolate with a pointed apex), and mature capsules shorter, extending about an equal distance beyond the sepals (vs. longer and narrower, extending well beyond the sepals). Its capsules are often densely aggregated, sometimes entirely concealing the rachis of the inflorescence.

Habitat

Lawns, gravelly roadsides, fallow fields, and other open or partly open, disturbed habitats. Seemingly infrequent and incompletely mapped due to confusion with Plantago rugellii; vouchers of P. major are known from several n. Virginia counties and a very few counties in the southern Ridge and Valley and Piedmont.

Native Status

Introduced
To save this map, right-click (control-click for Mac users) on the map and choose "Save Image As...".