Brachythecium campestre (Müll. Hal.) Schimp.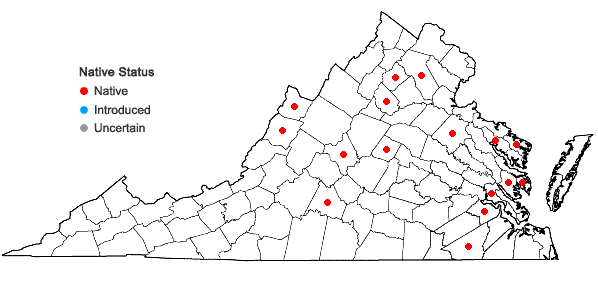 Detail
Family

Brachytheciaceae

Botanical Name

Brachythecium campestre (Müll. Hal.) Schimp.

Common Name

Synonym(s)

Brachythecium calcareum Kindberg

Flora of Virginia Name/Status

Comments

The Bryophyte Flora of North America does not map B. campestre in Virginia, ascribing its distribution to more northern and mid-western states. In a difficult genus such as this, species ranges can be poorly known, but even so, Virginia specimens so-named are likely to belong to other species, B. rotaeanum, in particular. The range for B. campestre in Crum & Anderson closely matches that in FNA, but according to Allen (Maine Mosses), the illustration shown in Crum & Anderson is likely referable to B. rotaeanum.

Habitat

FNA gives the habitat as "soil, wooded areas, limestone, concrete blocks, tree trunks"

Native Status

Native
To save this map, right-click (control-click for Mac users) on the map and choose "Save Image As...".