Schistidium agassizii Sull. & Lesq.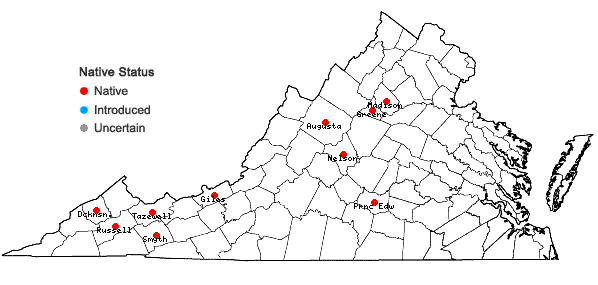 Show image without county labels
Detail
Family

Grimmiaceae

Botanical Name

Schistidium agassizii Sull. & Lesq.

Common Name

Synonym(s)

Grimmia apicola C. F. Ludw. (illegitimate); Grimmia agassizii (Sull. & Lesq.) A. Jaeger

Flora of Virginia Name/Status

Not applicable

Comments

Range descriptions for Schistidium agassizii do not include Virginia (FNA maps this only in Maryland in the Mid-Atlantic region). Herbarium specimens so labeled are likely to be S. rivulare, which occurs in similar riparian habitats. Apparently, confusion is exacerbated by nomenclatural confusion over the name Schistidium (Grimmia) alpicola, the name on most older Virginia specimens. Allen and Davis (in Evansia 37(2):28-30 (2020)) state that nearly all herbarium collections called S. alpicola are S. rivulare or some other species, but not S. agassizii. The map is maintained here until Virginia specimens can be critically examined by a specialist and assigned to the appropriate species. Schistidium agassizii may be distinguished from S. rivulare by its rounded-obtuse leaf apex, plane leaf margins (except sometimes slightly recurved basally), and less prominent keel in the upper leaf. By contrast, S. rivulare leaves have acute, prominently keeled leaves with (usually) strongly recurved margins.

Habitat

On outcrops and boulders, usually along streams; most collections from limestone or other calcareous rocks. We know of about ten widely scattered collections in the mountains (Biodiversity occurrence data published by DUKE, FLAS, MO, NY, TENN. Accessed through Consortium of North American Bryophyte Herbaria (CNABH) Data Portal, http//:bryophyteportal.org/portal/index.php, 2015-02-10).

Native Status

Native
To save this map, right-click (control-click for Mac users) on the map and choose "Save Image As...".