Agrostis perennans (Walt.) Tuckerman var. elata (Pursh) Hitchc.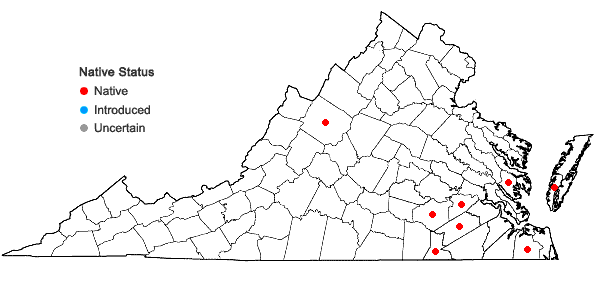 Detail
Family

Poaceae

Botanical Name

Agrostis perennans (Walt.) Tuckerman var. elata (Pursh) Hitchc.

Common Name

Coastal Bog Bentgrass, Tall Bentgrass

Synonym(s)

Agrostis altissima (Walt.) Tuckerm.

Flora of Virginia Name/Status

Agrostis altissima (Walt.) Tuckerman

Comments

Although most grass taxonomists don't recognize infraspecific taxa in Agrostis perennans, we have tentatively mapped this var. because it seems more distinctive than most of the segregates that have been proposed (often treated as a species, Agrostis altissima), and because it is considered a possible taxon of conservation concern in Virginia. Most of our distribution records are from Fernald's 14 years of intensive collecting in southeastern Virginia (1933-1947). Today this taxon is poorly known in the state and has probably been lumped with Agrostis perennans var. perennans in most floristic studies. Herbarium specimens need critical evaluation.

Habitat

Bogs, boggy clearings, depression swamps and ponds. In 1939, Fernald (Rhodora 41:503) reported that is was "characteristic of sphagnous bogs and wet pinelands, especially well developed in Greensville, Sussex, and Dinwiddie Counties; there with very large panicles (up to 3.5 dm long)." In the contemporary landscape, it is infrequent or rare in the s. and c. Coastal Plain; and disjunct to to a sphagnous sinkhole pond border in Augusta County (Ridge and Valley province).

Native Status

Native
To save this map, right-click (control-click for Mac users) on the map and choose "Save Image As...".