Fraxinus americana L. var. biltmoreana (Beadle) Wright ex Fern.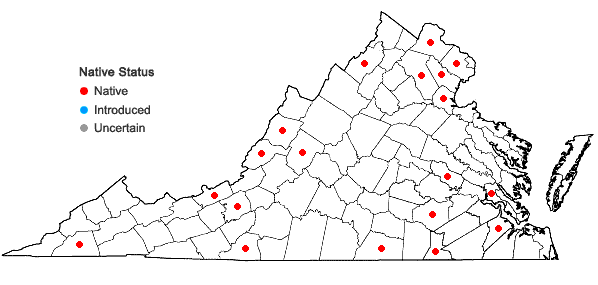 Detail
Family

Oleaceae

Botanical Name

Fraxinus americana L. var. biltmoreana (Beadle) Wright ex Fern.

Common Name

Biltmore Ash, Biltmore White Ash

Synonym(s)

Fraxinus biltmoreana Beadle

Flora of Virginia Name/Status

Fraxinus americana L. (in part)

Comments

Over the years, this taxon has been variously recognized as a species, a variety, or a mere form of F. americana. It has sparsely to densely pubescent twigs, petioles, petiolules, and rachises plus generally larger fruits (samaras 33-54 × 6-8 mm; bodies [7-]11-15 × 2-4 mm). The leaf scars of F. biltmoreana also have a nearly truncate apex as opposed to the V-, U-, or crescent-shaped upper margins found in true F. americana. Nesom, in Phytoneuron 2010-51: 1-30), points to chromosome counts made by other workers which seem to establish "americana" as a diploid and "biltmoreana" as a hexaploid; this difference in ploidy level, in combination with morphological differences, led Nesom to conclude that these taxa should be treated as species. He also resurrected the little-used name Fraxinus smallii for a tetraploid with glabrous twigs, petioles, petiolules, and rachises, samaras (32-)36-44 × (4.5-)5-7 mm, and bodies (9-)10-13 × 2-3.5 mm.

In Virginia, field and herbarium experience has demonstrated that numerous trees, especially in dry limestone areas, are intermediate between these taxa. Moreover, pubescent forms also often have buds more like F. pennsylvanica, causing additional confusion. As a result, we are conservatively recognizing these taxa as vars. rather than full species. Additionally, Whitemore et al. (2018, Int. J. Plant Sci. 179(5): 377-389) did not find a correlation between ploidy level and the morphological characters used by Nesom to separate F. biltmoreana and F. smallii, and suggested that F. smallii should be remerged with F. biltmoreana, Pending further clarity on this, we follow Whitemore et al. in treating F. smallii in synonymy.

Habitat

Bottomlands, mesic slope forests, rocky bluffs and woodlands. Apparently widely distributed, at least in the mountains and Piedmont, although extensive field and herbarium work will be needed to fully flesh out the Virginia distribution. All Fraxinus species are currently in decline and suffering extensive mortality from state-wide outbreaks of the introduced insect pathogen, Emerald Ash Borer (Agrilus planipennis).

Native Status

Native
To save this map, right-click (control-click for Mac users) on the map and choose "Save Image As...".