Trillium pusillum Michx. var. virginianum Fern.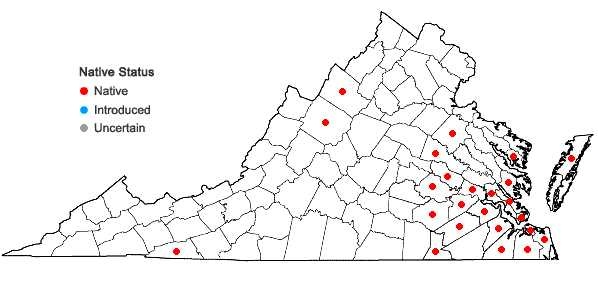 Detail
Family

Trilliaceae

Botanical Name

Trillium pusillum Michx. var. virginianum Fern.

Common Name

Virginia Least Trillium, Virginia Dwarf Trillium

Synonym(s)

Trillium pusillum Michx. var. monticulum Bodkin & Reveal

Flora of Virginia Name/Status

Trillium pusillum Michx. var. virginianum Fern.

Comments

As a species complex, Trillium pusillum poses by far the most daunting of our taxonomic problems in the genus. Variety monticulum Bodkin & Reveal was named to account for montane plants in Augusta and Rockingham counties. Results of extensive morphological and molecular studies of the T. pusillum complex, however, do not support its recognition. Nevertheless, transplants maintain differences in flowering time compared with var. virginianum (C.E. Stevens, pers. comm.) and the consistently large, rounded leaves lend a different aspect to populations of the montane plants. Several other taxa within this complex may be proposed at either the varietal or species level in the near future and will need to be investigated. For now, this treatment follows that of the Flora of North America, which recognizes only var. pusillum (of farther south and west) and var. virginianum.

Habitat

Most frequent on hummocks in braided seepage along small streams in southeastern Virginia; also in low mesic forests, wet flatwoods, bottomland forests, alluvial swamp hummocks, and non-riverine swamp "islands" of this region. Montane populations are on acid ridgecrests (Augusta & Rockingham cos.) and in a mafic fen (Grayson Co.). Trillium pusillum var. virginianum is rather widely distributed but rare in the s. and c. Coastal Plain, and very rare in the mountains.

Native Status

Native
To save this map, right-click (control-click for Mac users) on the map and choose "Save Image As...".