Malaxis bayardii Fern.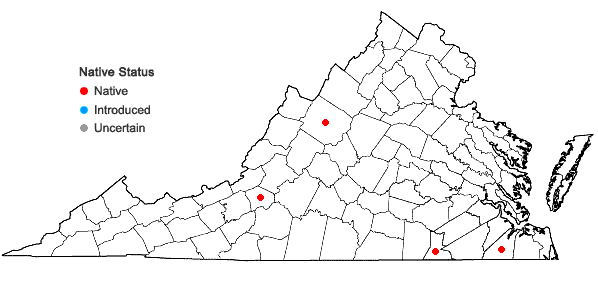 Detail
Family

Orchidaceae

Botanical Name

Malaxis bayardii Fern.

Common Name

Appalachian Adder's-mouth

Synonym(s)

Flora of Virginia Name/Status

Malaxis bayardii Fern.

Comments

Malaxis bayardii was described by Fernald in 1936 from specimens he and Bayard Long collected near Kilby in Nansemond County (now City of Suffolk), Virginia. It was later collected near Skippers (Greensville County, Fernald and Long, 1938), on Poor Mountain (Roanoke County, Carroll Wood, 1946), and on Reddish Knob (Augusta County, Lena Artz, 1947), but has not been seen in Virginia in over 70 years. Despite numerous collections across the Mid-Atlantic and the northeast in the decades following its discovery, M. bayardii is now known to be extant at but a single site on Cape Cod in Massachusetts.
Malaxis bayardii has not always been a universally accepted taxon and was often treated as a synonym of the widespread and frequent M. unifolia until P.M. Catling's 1991 morphometric study comparing the two taxa. Catling found that the two species can be differentiated by lip basal lobe size and flower pedicel length, with M. bayardii having prominent lip basal lobes and pedicels 5mm or shorter (versus greater than 5mm in M. unifolia). Additionally, M. bayardii has persistent flowers that senesce and abscise much later than those of M. unifolia, a trait that when combined with the shorter pedicels imparts a more narrow and cylindric attitude to the raceme (versus wider and flat-topped in M. unifolia). Across its range M. bayardii has a generally bi-modal distribution, favoring dry woodlands in the mountains and sandy pine-oak woodlands in the coastal plain, and has even been recorded from shale barrens and road cuts in Pennsylvania. There is no shortage of seemingly appropriate habitat for the species, so its precipitous decline remains a mystery.

Habitat

Dry woodlands. Rare and known only from historical collections in the s. Coastal Plain and Ridge and Valley regions.

Native Status

Native
To save this map, right-click (control-click for Mac users) on the map and choose "Save Image As...".