Lolium arundinaceum (Schreb.) Darbysh.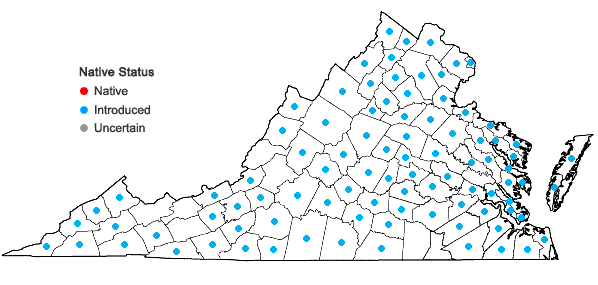 Detail
Family

Poaceae

Botanical Name

Lolium arundinaceum (Schreb.) Darbysh.

Common Name

Tall Fescue, Alta Fescue

Synonym(s)

Schedonorus arundinaceus (Schreb.) Dumort.; Festuca arundinacea Schreb.; Festuca elatior L. var. arundinacea (Schreb.) Wimmer

Flora of Virginia Name/Status

Lolium arundinaceum (Schreb.) Darbysh.

Comments

This is one of our most abundant pasture grasses, planted widely; its tough foliage is dark green even in winter. Most of the cultivated "tall fescue" we see is this species. Kentucky 31 is an especially aggressive cultivar of this plant. However, the map likely contains some records of Lolium pratense, which has been lumped with L. arundinaceum (under the name "Festuca elatior") in most previous Virginia floristic work.
The generic disposition of the species most recently treated as Schedonorus arundinaceus and S. pratensis has been controversial. Darbyshire (Novon 3, 1993) took genetic similarities from isozymes, chromosome banding/caryotyping, and other studies into account in lumping New World elements of the Schedonorus complex into Lolium, but Soreng and Terrell (Phytologia 83, 1997) considered that premature and assigned them to Schedonorus. Since then, data have accumulated suggesting that maintaining Schedonorus and Lolium as separate genera is untenable (R. Soreng, pers. comm.). Molecular studies by Catalan, Peterson, and Soreng (J. Bot. Res. Inst. Texas 3, 2009) demonstrate that Schedonorus is not a monophyletic genus and is best combined with Lolium.

Habitat

Fields, pastures, roadsides, and other open, disturbed habitats. Common throughout.

Native Status

Introduced
To save this map, right-click (control-click for Mac users) on the map and choose "Save Image As...".