Festuca rubra L.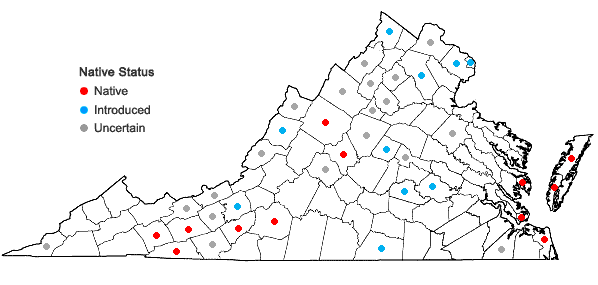 Detail
Family

Poaceae

Botanical Name

Festuca rubra L.

Common Name

Red Fescue

Synonym(s)

Festuca rubra L. ssp. rubra

Flora of Virginia Name/Status

Festuca rubra L.

Comments

Interpretations of North American Festuca rubra in both older and recent literature are complex, confusing, and sometimes contradictory. It is a highly variable species, probably representing both native and introduced genotypes. The recent treatment in FNA (Darbyshire and Pavlik 2007) recognizes 12 subspecies, none of which are clearly native to the Mid-Atlantic region. They also say that "much more work on the taxonomy of the F. rubra complex is needed before the boundaries of individual taxa can be firmly established," and name several variants that "need attention" and don't clearly fit any of their subspecies. In Virginia, hundreds of cultivars of Eurasian material have been used as forage and lawn grasses, sometimes persisting and escaping into ruderal habitats. Yet, Festuca rubra sensu lato is also found in a remarkable assemblage of specialized, natural, and often remote habitats (see below) in both the Coastal Plain and mountains. It seems highly unlikely that F. rubra was introduced to these habitats (or some of them) from cultivated escapes. For the time being, we are following Weakley (2022) and the Flora of Virginia (2020) in provisionally treating our material at the species level until more clarity about the taxa in eastern North America and their current and presettlement distribution is achieved. The map depicts counties as "native" where specimen data suggests a natural habitat (primarily rock outcrops in the mountains and Coastal wetlands), and "introduced" where specimens are from obviously weedy habitats; the remainder are denoted as "uncertain," but most are likely introductions.

Habitat

Potentially native genotypes occur in interdune swales, salt scrub, secondary dune grasslands, and maritime hammock forests (within marshes) on the Eastern Shore barrier islands; mafic woodlands, outcrop barrens, mafic fens, and high-elevation bogs of the Blue Ridge; and calcareous sandstone barrens and high-elevation red oak forests in the Ridge and Valley. Populations elsewhere, occurring in fields, pastures, weedy clearings, and other open, disturbed habitats, almost certainly represent introductions. In our area, this species is considered to be partly native and partly introduced (see Comments). As a whole, it varies from very infrequent to locally common throughout.

Native Status

Native
To save this map, right-click (control-click for Mac users) on the map and choose "Save Image As...".