Corydalis sempervirens (L.) Pers.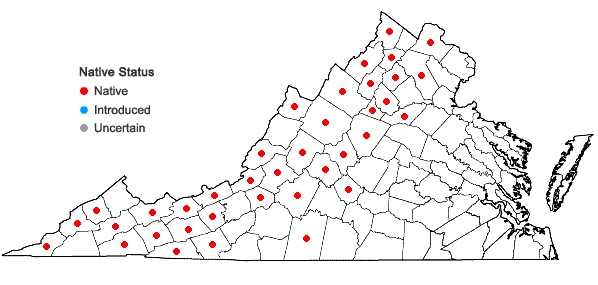 Detail
Family

Fumariaceae

Botanical Name

Corydalis sempervirens (L.) Pers.

Common Name

Pale Corydalis, Pink Corydalis, Rock Harlequin

Synonym(s)

Capnoides sempervirens (L.) Borkh.

Flora of Virginia Name/Status

Capnoides sempervirens (L.) Borkhausen

Comments

The Flora of Virginia and Weakley (2012 Draft Flora of the Southern and Mid-Atlantic States) treat this taxon as Capnoides sempervirens (L.) Borkh. While clear differences exist between Corydalis and Capnoides, DNA sequence data still show a closer and unresolved affinity to other Corydalis species than to related genera such as Adlumia and Dicentra (Liden, et als (1997)). We feel it is premature to recognize Capnoides and have followed Stern in FNA (Vol. 3) in retaining Corydalis as the more conservative generic disposition. The ambiguity of molecular data coupled with striking differences in flower symetry between this species and Adlumia and Dicentra compared with a close similarity to Corydalis, lend support to this view until more definitive data are available.

Habitat

Exposed to partly shaded cliffs, ledges, and sloping pavements of metabasalt, amphibolite, phyllite, metasiltstone, sandstone, quartzite, and various granitic rocks; occasionally in very rocky woodland soil, talus, or mineral soil exposed by burns. Frequent but local in the mountains; rare on foothills and monadnocks of the inner Piedmont.

Native Status

Native
To save this map, right-click (control-click for Mac users) on the map and choose "Save Image As...".