Stachys subcordata Rydb.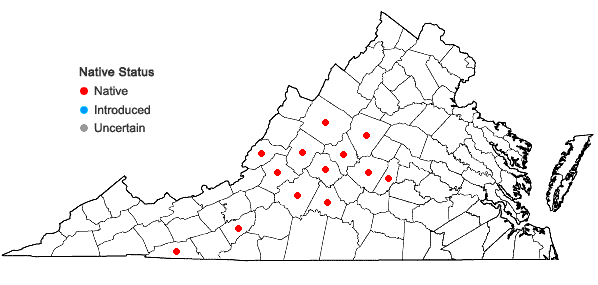 Detail
Family

Lamiaceae

Botanical Name

Stachys subcordata Rydb.

Common Name

Blue Ridge Hedge-nettle

Synonym(s)

Incl. in earlier concepts of both Stachys latidens Small ex Britt. and Stachys cordata Riddell by various authors

Flora of Virginia Name/Status

Stachys subcordata Rydb.

Comments

Plants characteristic of the central Blue Ridge of Virginia (and allegedly SW to e. Tenn.) were given this name by Rydberg. Most subsequent workers included these within Stachys latidens, but the two taxa differ significantly in both foliar and inflorescence characters, as well as their habitats (S. subcordata is mostly affiliated with base-rich soils, S. latidens with strongly acidic soils). The type locality is at Peaks of Otter, Bedford County.
This stout plant of rich forests is more shade-tolerant than most other Stachys species in our area; its large, leaf-like inflorescence bracts are distinctive and diagnostic.

Habitat

Rich, mesic to dry-mesic montane forests over granitic and metavolcanic rocks at middle to high (rarely low) elevations; shade-tolerant. Frequent in the Central Blue Ridge, from Botetourt and Bedford counties north to Augusta and Albemarle counties; rare in the Southern Blue Ridge (where generally replaced by S. latidens); isolated populations occur in the adjacent Piedmont counties of Buckingham, Campbell, and Cumberland. This species is apparently a Central Appalachian endemic (or nearly so), but its range is poorly known and requires further study.

Native Status

Native
To save this map, right-click (control-click for Mac users) on the map and choose "Save Image As...".