Waldsteinia fragarioides (Michx.) Tratt.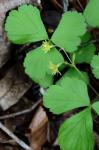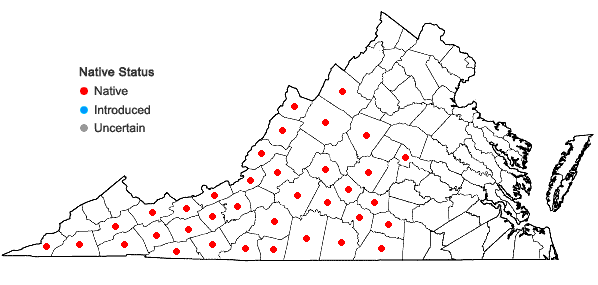 Detail
Family

Rosaceae

Botanical Name

Waldsteinia fragarioides (Michx.) Tratt.

Common Name

Barren Strawberry

Synonym(s)

Geum fragarioides (Michx.) Smedmark; Geum donianum (Tratt.) Weakley & Gandhi; Waldsteinia fragarioides (Michx.) Tratt. ssp. fragarioides; Waldsteinia fragarioides (Michx.) Tratt. ssp. doniana (Tratt.) Teppner; Waldsteinia doniana Tratt.

Flora of Virginia Name/Status

Waldsteinia fragarioides (Michx.) Tratt. + Waldsteinia doniana Tratt.

Comments

Waldsteinia is often included in Geum (see Synonymy), but recent work has supported its treatment as a separate genus. Out of necessity, we are following a broad circumscription of W. fragarioides, with two subspecies (ssp. fragarioides and ssp. doniana) recognized in the state. Weakley's Flora and the Flora of Virginia treat these subspecies as species. Regardless of what rank is used, the two taxa are similar, separated by size of the petals and their length relative to the sepals. This has proven to be problematic and difficult in Virginia. The taxa are sympatric in the southern part of the state, occur in the same habitat type, and specimens of intermediate petal size and shape and overlapping sepal lengths are often prevalent in a given area. These problems are compounded by the very short annual period during which all the critical floral parts necessary for identification are present. Since ssp. fragarioides is northern (extending s. to TN and NC in our area) and ssp. doniana is southern (extending n. to TN and VA), it seems possible that our problems could be due to intergradation in the overlapping area of distributions.

The map presented here is a species-level map showing all documented occurrences of Waldsteinia s.l. in the state. Provisional maps are provided for the two subspecies but are incomplete due to the many herbarium specimens lacking flowers. Further study in the field and additional herbarium specimens with flowers are needed to clarify the status and relationship of these taxa in our area.

Habitat

Mesic to dry upland forests, rocky woodlands, bluffs, and stream banks. Frequent in the sw. and wc. mountains and infrequent in the s. (mostly inner) Piedmont.

Native Status

Native
To save this map, right-click (control-click for Mac users) on the map and choose "Save Image As...".