Hexastylis chueyi (B.T. Sinn) Weakley & D.B. Poind.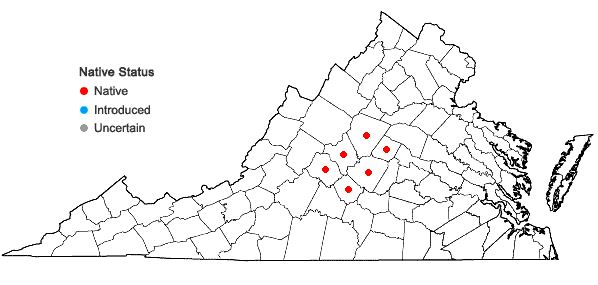 Detail
Family

Aristolochiaceae

Botanical Name

Hexastylis chueyi (B.T. Sinn) Weakley & D.B. Poind.

Common Name

Chuey's Evergreen Wild Ginger

Synonym(s)

Asarum chueyi B.T. Sinn

Flora of Virginia Name/Status

Hexastylis chueyi (B.T. Sinn) Weakley & D.B. Poind.

Comments

Asarum chueyi was described in Phytotaxa 224(1):85-95 (2015) from several counties in Virginia and one county in Tennessee. The type locality is on the Rivanna River in Albemarle County. Excellent color photos may be seen in the online edition of Phytotaxa and are an essential aid since most pressed herbarium specimens of evergreen ginger flowers are basically unhelpful! The nomenclatural transfer to Hexastylis was made by Weakley and Poindexter in J. Bot. Res. Inst. Texas 14(2): 199-239 (2020).

This plant has been known in Virginia since 1982 from several collections at VPI that were subsequently annotated as either Hexastylis heterophylla or H. minor but known to represent an anomalous morphology not representative of those species and kept separate in the herbarium. The species is attributed to limestone cliffs (type specimen!), but bedrock in this area of Albemarle County is metamorphic and acidic as it is at all Virginia occurrences.

Habitat

Hardwood bluffs, slopes, and banks adjacent to streams and rivers, often associated with bedrock outcrops.

Native Status

Native
To save this map, right-click (control-click for Mac users) on the map and choose "Save Image As...".