Opuntia cespitosa Raf.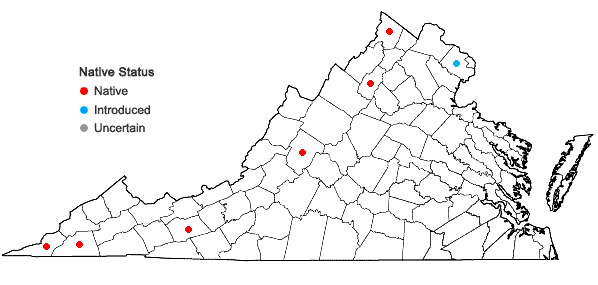 Detail
Family

Cactaceae

Botanical Name

Opuntia cespitosa Raf.

Common Name

Synonym(s)

Opuntia humifusa Raf. (sensu lato), in part

Flora of Virginia Name/Status

Opuntia humifusa (Raf.) Raf. var. humifusa, in part

Comments

See Majure et al. (2017, Phytotaxa 290: 001-065) for a well supported revision of the Opuntia humifusa complex based on a combined approach using phylogenetic, evolutionary, ecological, and morphological concepts. Opuntia cespitosa is one of three species in the complex that occurs in Virginia. It primarily ranges west of the Appalachians into the Midwest, occurring in the Appalachians as somewhat isolated populations on woodlands and barrens with western affinities. The map is incomplete at the present time, pending evaluation of extensive in-state herbarium material. See also map and comments under Opuntia humifusa complex.

Opuntia cespitosa has long spines, dark reddish glochids, and flowers that are red-tinged at the base of the petals, the latter a conspicuous and unique character among our three species.

Habitat

Woodlands, barrens, and dry disturbed habitats on limestone and calcareous shale. Native in Virginia only in the Ridge and Valley region; introduced on limestone railroad ballast in the City of Alexandria (Fairfax Co.). The full distribution and status of this taxon in our area have yet to be determined, but it appears to be much less frequent than the other two species of Opuntia.

Native Status

Native
To save this map, right-click (control-click for Mac users) on the map and choose "Save Image As...".