Acer rubrum L.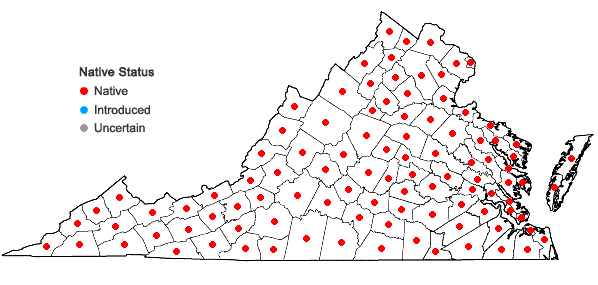 Detail
Family

Sapindaceae

Botanical Name

Acer rubrum L.

Common Name

Red Maple

Synonym(s)

Acer rubrum L. var. trilobum Torrey & Gray ex K. Koch; Acer rubrum L. var. drummondii (Hooker & Arnott ex Nutt.) Sargent

Flora of Virginia Name/Status

Acer rubrum L.

Comments

The recognition of infraspecific taxa in Acer rubrum in controversial; until more convincing systematic studies are done, we follow the Flora of Virginia in recognizing only a broad species concept that accepts considerable variation in leaf and samara architecture and pubescence. Sometimes attributed to our area (see Weakley 2012 Draft Flora of the Southern and Mid-Atlantic States for a key and details) are var. triloba, supposedly with consistently 3-lobed leaves and occurring primarily in wetlands of the southeastern US Coastal Plain; and var. drummondii, with leaves white-tomentose beneath, large samaras, and a range centered in the sc. US. Of the two, the latter seems more distinctive and worthy of further study. However, the typical var. rubrum is by far the most common of these taxa (if you accept them) in Virginia.

Habitat

Ubiquitous in an extraordinary range of wet to xeric forest and woodland habitats, ranging from sea-level to the highest elevations; often dominant in swamps, floodplains, depression wetlands, and successional forests. This species has also become dominant in the understory of various upland oak and oak-hickory forests due to the widespread cessation of fires and other disturbances that regenerate oaks. Common throughout.

Native Status

Native
To save this map, right-click (control-click for Mac users) on the map and choose "Save Image As...".